Did you answer YES at least once? Perfect, you are exactly the person we are looking for! 
ESN MUNI Brno is looking for new passionate members every semester. Do you want to experience Erasmus in your own country?
​Then JOIN US and become a Buddy!
This link will take you to our Fiesta system, that is used for matching local and incoming students.
WHAT DOES IT MEAN TO BE A BUDDY?
As a Buddy, you are the first person our incoming students will meet. You will pick up your Erasmus student, help him with his accommodation in Brno and help him with anything he needs. You get to show him around, show him your favourite places, and most importantly, you will gain a new friend for life!
And how can you be the best Buddy ever? You can find all the useful and essential information in our Buddy Guide, and you can always contact our lovely HR Manager. She will be more than glad to help you and answer all of your questions. 
WHAT ELSE CAN I DO?
Do you like taking photos and making videos? Awesome, you can join the team of the Communication Manager! You do not need to be a professional. We will teach you everything you need to know.
Do you believe in the power the social networks? You have a fantastic opportunity to contribute to Facebook and Instagram pages of one of the largest student organisations at Masaryk University! Again, contact the Communication Manager.
Are you an organised and reliable person? Do you want to practice your organisational skills and show our Erasmus students our amazing culture and life in Brno? You can do that by joining the team of the Events Manager and take Erasmus students for adventures! 
Do you believe that Erasmus is not just partying? Erasmus is everything you want it to be! In ESN MUNI Brno you can make an impact by plating trees, helping in the ZOO or walk the dogs from a local animal shelter with your friends. Causes Supporter is waiting for your message! 
There are many more activities you can participate in, with or without helping. Visit Quiz Nights, Country Presentations, and others, take your buddies with you and make new international and local friends.
BEYOND ERASMUS
The semester is over, and your Erasmus buddies are leaving. What now? We have good news for you. Your Czech friends will be here all year long.
We are a group of students helping students. We share similar values, support the self-realisation of our members and their personal development. We gain new friendships, skills and memories every day trough volunteering.
#THISisESN
JOIN OUR FACEBOOK GROUPS AND FOLLOW US ON INSTAGRAM!
CHECK IF YOU HAVE ALREADY DONE EVERYTHING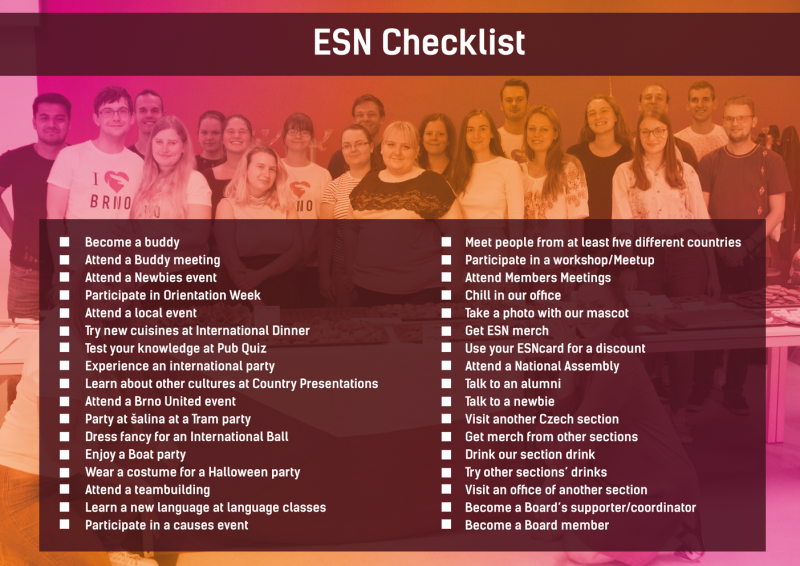 CONTACT
Human Resources Manager 
humanresources@esn.muni.cz
+420 774 774 837